You have a high customer and service orientation, and you are very conscientious, structured, and precise in your way of working? You have first experiences in the field of accounting and dunning? In addition, you enjoy communicating with different customers in different languages and always keep an eye on PAKi´s interests? Then we have the perfect challenge for you. Whether your skills contribute to the further development of our processes, you use your language skills to respond even more specifically to the requirements of our customers and service providers, or you exert a direct influence on the topic of sustainability… at PAKi, we want you to make a difference with your work.
"There is a huge engagement and warm and motivating team spirit"
Making a difference as an employee in Financial Accounting Receivables
To be able to guarantee a flawless payment flow, we are looking for you as an employee in Financial Accounting Receivables. In this role, you will be able to use your language skills as well as your professional expertise in the best possible way. The maintenance and control of all accounting-relevant fields of accounts receivables in the ERP system and the implementation of the dunning process and collection are part of your exciting daily work routine. You maintain, create, and process debtor due lists, prepare debtor disbursements, and you are the contact person for lawyers and insolvency administrators. You also create statistics and are responsible for processing and ensuring proper accounts receivable accounting.

PAKi
We are PAKi, the open pool service provider for the management, supply and relocation of standardized
exchangeable (Euro) pallets and containers. We efficiently and effectively help retailers, manufacturers and
transport companies across Europe with the handling of their specific load carrier needs. With our experience
and know-how we offer sustainability, reliability and efficiency in the load carrier management.
We carry impact with the reusable aspect of load carriers which helps both our customers and PAKi to reduce
the amount of waste and CO2 in supply chains. By implementing digitalization of all forms of business, we help
our customers to save both resources and time, leaving them to concentrate on their core business.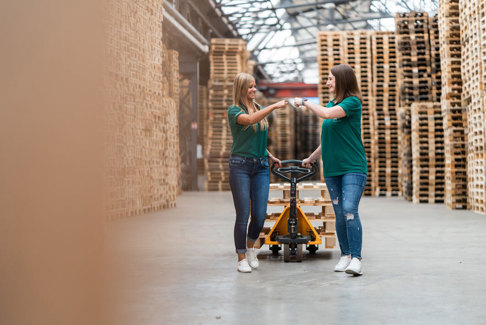 DID YOU GET CURIOUS?
How innovative and analytic would you like to be as an employee Financial Accounting Receivables? Feel free to contact Alena Mildenberger-Wisnewski, HR Business Partner, 02333-975395122 for more information about the vacancy or apply below! You can also simply apply with your Xing or LinkedIn profile. In the application form, you will find separate fields which you can use for referring to your profile(s).