As an expert in customer service & transport planning you are constantly one step ahead to improve the logistic efficiency of our major international brands and support clients on a daily basis. Your insights will make operations run more smoothly and on top of that put a smile on our clients faces. Contribute to the team effort and optimize the supply chain for millions of daily goods like your morning coffee or favourite snack. At PAKi we want you to be able to have a meaningful impact in the work you do. Read the full job profile customer service representative below.
"There is a huge engagement, and warm and motivating team spirit"
Make impact as an expert in customer service and transport planning
As an expert in customer service and transport planning you make sure individual clients can rely on an effortless load carrier flow and you will play a pivotal role within a dynamic and fast-paced environment, servicing established brands within the supply chain. You support and advice our customers, coordinate load carrier flows and organise the procurement of freight space and load carriers as required. Furthermore, you support the sales manager in the acquisition of new customers and create, negotiate and follow-up offers. Besides, you keep an open eye for opportunities to improve processes or maximise our impact. You will collaborate with key stakeholders and your team to ensure an effortless customer journey and the most efficient way possible to reduce costs and waste. Apart from your daily activities you will actively work on developing business opportunities.

PAKi
We are PAKi, the open pool service provider for the management, supply and relocation of standardized
exchangeable (Euro) pallets and containers. We efficiently and effectively help retailers, manufacturers and
transport companies across Europe with the handling of their specific load carrier needs. With our experience
and know-how we offer sustainability, reliability and efficiency in the load carrier management.
We carry impact with the reusable aspect of load carriers which helps both our customers and PAKi to reduce
the amount of waste and CO2 in supply chains. By implementing digitalization of all forms of business, we help
our customers to save both resources and time, leaving them to concentrate on their core business.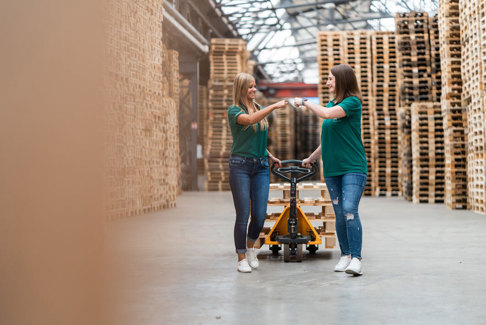 DID YOU GET CURIOUS?
How lean and green would you like to be as an expert in customer service and transport planning? Feel free to contact Alena Mildenberger-Wisnewski, HR Business Partner, 02333-975395122 for more information about the vacancy or apply below! You can also simply apply with your Xing or LinkedIn profile. In the application form, you will find separate fields which you can use for referring to your profile(s).