You feel home in the digital environment? Monitoring and development of digital applications makes you go the extra mile. But at PAKi you can achieve so much more. Whether your views based on facts and figures contribute to the development of efficient supply chains, support waste reduction or maybe even leave the world in a better stage for the next generations… at PAKi we want you to have a valuable impact in the work you do. Read the full job profile product manager digital solutions below.<br /> <br />  
"It makes me proud to work at a company that is being respectful"
Make impact as Product Manager Digital Solutions
As a Product Manager Digital Solutions, you start of the function of Product Manager/ Product Owner for our digital applications, such as our app. You launch products on the market as part of the digital transformation process and agile product and project management according to SCRUM & KANBAN. Your support of the sales department in promoting the tool. Budget control as well as quality assurance are no challenge for you. Moreover collaboration on digitalization & standardization projects within the Faber Group.

PAKi
We are PAKi, the open pool service provider for the management, supply and relocation of standardized
exchangeable (Euro) pallets and containers. We efficiently and effectively help retailers, manufacturers and
transport companies across Europe with the handling of their specific load carrier needs. With our experience
and know-how we offer sustainability, reliability and efficiency in the load carrier management.
We carry impact with the reusable aspect of load carriers which helps both our customers and PAKi to reduce
the amount of waste and CO2 in supply chains. By implementing digitalization of all forms of business, we help
our customers to save both resources and time, leaving them to concentrate on their core business.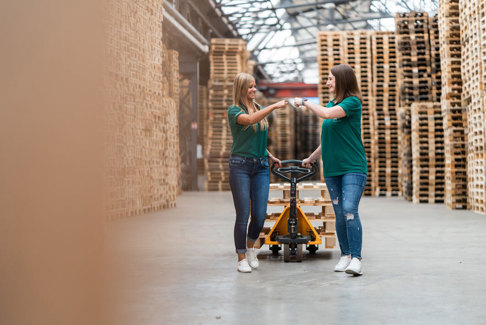 DID YOU GET CURIOUS?
How clever and caring would you like to be as Product Manager Digital Solutions? Feel free to contact Denise Stobbe, HR Business Partner, 02333-975395126 for more information about the vacancy or apply below! You can also simply apply with your Xing or LinkedIn profile. In the application form, you will find separate fields which you can use for referring to your profile(s).