You are a quality expert and have a passion for building and developing relationships and making personal contacts? You feel confident in negotiating contracts, prices and conditions and are not afraid to "lend a hand" and pass on your knowledge in training courses? You live in the southern part of Poland, close to the neighbouring countries of the Czech Republic and Slovakia? If so, we may have the perfect challenge for you. But at PAKi, your role is much bigger than that. Whether your activities in the field enable our clients to grow effectively, you create new opportunities to improve our impact, or have a direct impact on the issue of sustainability.... at PAKi, we want you to make a difference with your work. Read the full Area Sales Manager job profile below.
"It makes me proud to work at a company that is being respectful."
Make impact as Logistics Expert in the field
In order to further strengthen and expand our business in the Eastern Europe region, we are looking for you as a Logistics Expert in the field. You will act as a support function in the field for various PAKi service providers, which can be the spots, the depots/warehouse locations as well as suppliers and customer locations. You are the link to the internal PAKi operations team, procurement team and sales team. In the field, you will review and evaluate the performance of our service providers, the quality of the load carriers and the availability on site. It is important that the service providers' compliance with quality requirements is ensured and that the digital transformation is driven forward.

PAKi
We are PAKi, the open pool service provider for the management, supply and relocation of standardized
exchangeable (Euro) pallets and containers. We efficiently and effectively help retailers, manufacturers and
transport companies across Europe with the handling of their specific load carrier needs. With our experience
and know-how we offer sustainability, reliability and efficiency in the load carrier management.
We carry impact with the reusable aspect of load carriers which helps both our customers and PAKi to reduce
the amount of waste and CO2 in supply chains. By implementing digitalization of all forms of business, we help
our customers to save both resources and time, leaving them to concentrate on their core business.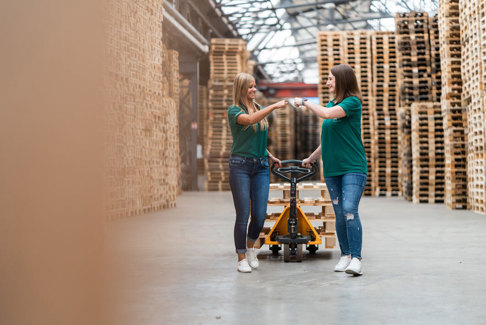 DID YOU GET CURIOUS?
How lean and green would you like to be as an Area Sales Manager? Feel free to contact Alena Mildenberger-Wisnewski, HR Business Partner, 02333-975395122 for more information about the vacancy or apply below! You can also simply apply with your Xing or LinkedIn profile. In the application form, you will find separate fields which you can use for referring to your profile(s).